Ponderosa Fire District (PFD) is a rural fire district in Northern Arizona located 10 miles west of Flagstaff. The District encompasses approximately 29 square miles, serving a population of approximately 3,200 in the communities of A-1 Mountain, Saskan Ranch, Bellemont, and Parks, Arizona. In addition, PFD provides emergency services for 20 miles of Interstate-40 from exit 171 to exit 191.
PFD is an all-hazard agency that provides traditional fire services, emergency medical services, wildland firefighting, public education, and prevention inspections. The majority of PFD calls are medical emergencies particularly on I-40 during inclement weather. However, much of the District consists of densely forested land and the threat from wildfire is the highest risk for all of the communities we serve.
Bellemont is a diverse community comprised of a modern 300-home subdivision, small manufacturing, and industrial businesses, and a busy travel/truck fueling station. PFD also provides mutual aid assistance to the Camp Navajo Army Depot which is located in Bellemont on the south side of I-40. Parks is a rural community with homes on one-acre or larger lots, two convenience stores, and a K-8 grade school. The entire southern boundary of the District is bordered by the BNSF railroad.
PFD responds out of two stations and has recently transitioned to a combination department with career and volunteer firefighters. The Fire Chief, Assistant Chief, Administrative Chief, and Office Manager. PFD has three duty crews consisting of three full-time Captains, Engineers, and firefighters.
The Park's location is known as Station 81 and consists of three bays with a type 1 engine, a water tender, and thinning crew vehicle. Station 81 also has a modular dwelling that allows firefighters housing while on-duty. Ponderosa Fire District administrative offices are located in Bellemont at Station 82. This station also has three bays with a type 1 engine, command vehicles, and two wildland apparatus. Station 82 also has three dormitories and an all-purpose/training area.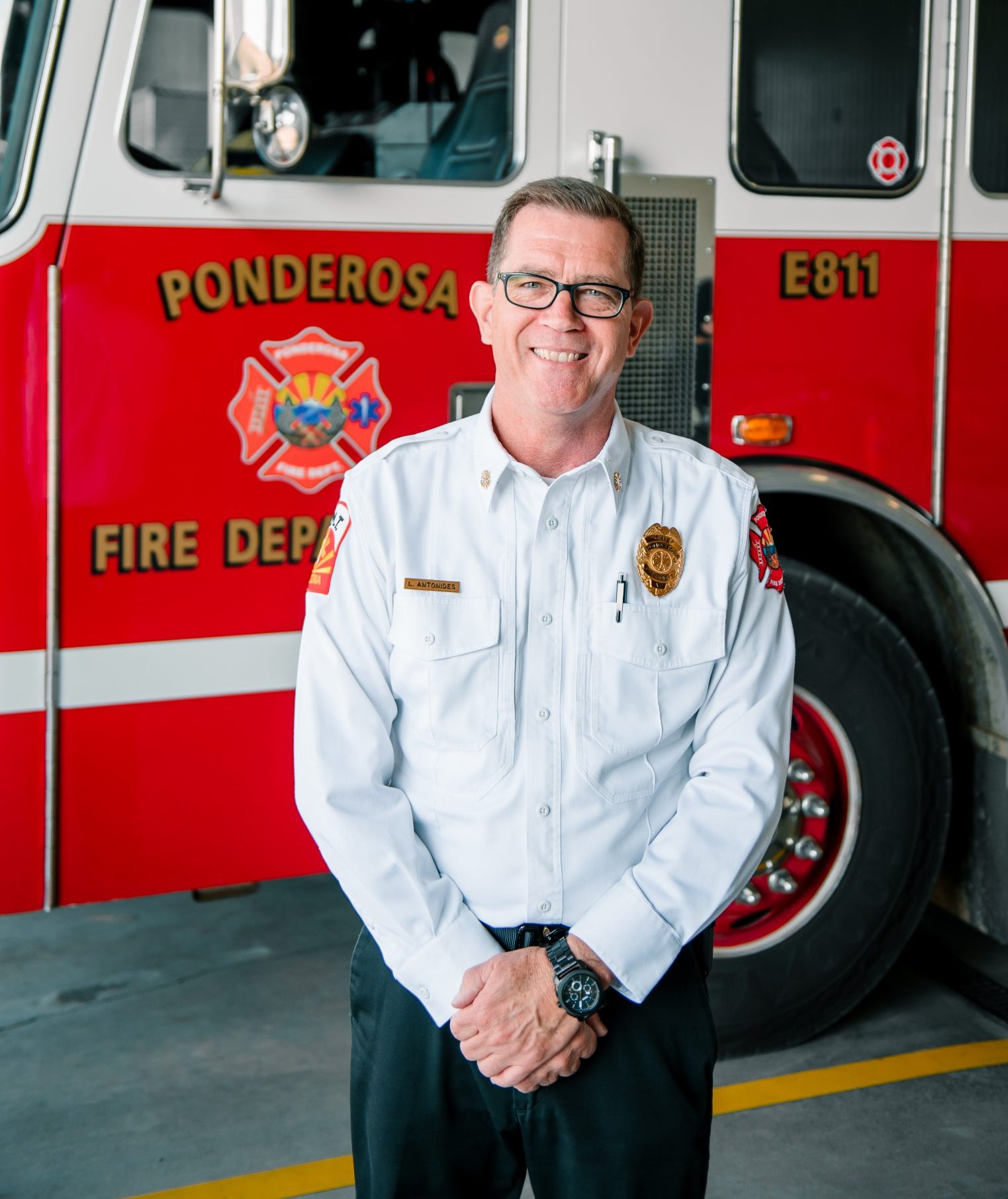 With well over 30 years of experience in the Fire Service, Lee Antonides, took the Fire Chief position with Ponderosa Fire District in May of 2017. Throughout his career, he has been heavily involved with the community and as a Threat Liaison Officer (TLO). Also, he works with committees such as the Ponderosa Fire Advisory Council (PFAC), International Association of Fire Chief's (IAFC), Arizona Fire Chief's Association (AFCA), and Arizona Fire District Association (AFDA).
Lee is dedicated to life safety and property conservation and consistently improving the level of service that Ponderosa Fire District offers to the communities that we serve.